I've been studying statistical physics pretty hard lately, learning how to deal with many-body systems with a bunch of contributing factors to the dynamical evolution of a system. To a lesser extent, I've been studying the serious probability theory (interacting particle systems, stochastic processes) that go along with statistical physics. It's caused me to ask questions about the last model I was looking at. I love it when that happens.
In a previous project on signaling theory, I looked at some of the newer literature on coevolutionary or "adaptive" network models. A coevolutionary network model is a dynamic process (for example, an evolutionary game theory model) whose interactions are localized to the structure of a mathematical graph or network. The network topology thus exerts an influence on the solution space of the game, and thus the outcomes which occur for any particular state of the population. In addition, the results of each round of the game have an effect upon the edges and nodes of the network itself, causing "rewiring" of the network and thus changes in the interaction between individuals for the next round. In the case of the costly signaling theory model I was exploring, the setup looks like this: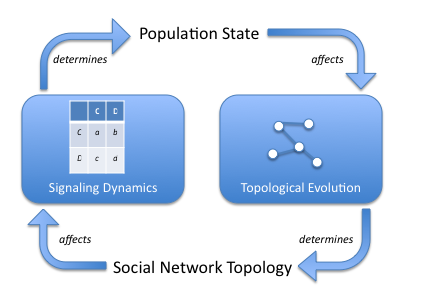 So the difficulty with standard dynamical models (i.e., ODE models) of dynamical processes on graphs, is that it becomes difficult to do anything but a modified mean-field model, with constraints so that vertices are degree uncorrelated. With adaptive network models and game dynamics, nearly all the literature is reliant on numerical simulation (see Gross and Blasius's 2007 and 2008 reviews, links coming soon). No real analytical models.
I pretty much bought the notion that correlations and too many degrees of freedom in the network would kill any ability to analyze an adaptive network model analytically. Until I started into the spin glass literature.
Spin glasses are examples of disordered statistical systems, where in addition to dynamical variables which evolve, there are one or more sources of disorder, often structural. An easy example is a standard Ising spin system (or spatial two-allele genetic system with neutral fitness, doing a Moran model), but instead of the Hamiltonian containing only spin configurations and a global coupling constant, the coupling constants vary spatially, and are random variables themselves.
Sound familiar? Coupling constants are the links in the network. If they're spatially disordered, we have a random graph, not a lattice or mean-field model. If the coupling constants evolve along with the dynamic variables, we have annealed disorder. If the coupling constants are random for a given instantiation of the dynamics, but randomly chosen from an ensemble distribution, we have quenched disorder.
Given what I'd read in the adaptive network literature, the first situation (annealed disorder) sounded harder to solve than the second (quenched disorder). In other words, the evolving network was harder than the static network.
But my reading in the spin glass literature seems to indicate exactly the opposite. We have fewer methods which yield good results of complex systems with quenched disorder, than annealed.
This makes me wonder — conjecture even — that it should be possible to study and solve coevolutionary network models more easily than static models of network dynamics. There's probably a couple of hundred caveats and exceptions here, but if it's true, that's great. Coevolutionary models between contact network and game dynamics are what we need to study as social scientists — models with static networks were typically simplifications of the social phenomena we're trying to explain.
Hmm…need to read more on spin glasses; the complexity of the dynamics and models make it difficult stuff, but potentially rewarding. I always wondered why the Santa Fe Institute guys kept on about spin glasses….