Since Bentley and Shennan's work demonstrating that random copying processes generate power-law frequency spectra, a significant thread in cultural transmission research has focused on the shape of frequency distributions.  In my previous post, I cited Mesoudi and Lycett's (2009) paper in passing, and in this post I want to highlight an issue that constitutes an important open problem in transmission modeling.
Mesoudi and Lycett note (p. 42) in passing that "perhaps some mix of conformity, anti-conformity, and innovation combine to produce aggregate, population-level data that are indistinguishable from random copying."  The authors go on to note that this claim has not been tested explicitly, and I believe as of this writing (Dec 2010), that this still constitutes an open issue.
The significance of this problem lies entirely in the fact that most applications of cultural transmission theory employ aggregate data, and have no access to individual transmission chains or events which could be used to identify the action of different transmission processes.  This is obviously true in archaeology, where our data typically  represent not just population-level aggregates, but palimpsests of aggregates over varying amounts of time.  But it's also true in studying contemporary populations outside the laboratory and experimental settings.
In a recent and excellent article, Steele et al. (2010) describe Bronze Age Hittite ceramic assemblages for which they have independent reasons to believe that some of the variation is not selectively neutral, but yet statistical tests cannot falsify the hypothesis of neutrality (they employ the Ewens-Watterson and Slatkin's Exact tests).  They end up concluding that more attention is required to unit formation, refining their ideas of "what features and categories can be treated as reliable units of prehistoric cultural transmission." (p. 1357).
My interpretation is different:  the archaeological units employed here aren't the reason why the statistical tests are failing to detect departures from neutrality they expect to see (given vessel form and intuitive functional arguments).  What they're possibly seeing is an instance of Mesoudi and Lycett's open issue.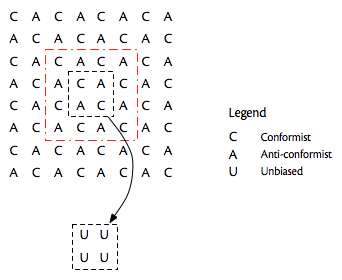 In a population where individuals may be employing different rules for learning cultural information, those rules may "add up" to a population-level statistical profile which is indistinguishable from random copying.  A simple thought-experiment example demonstrates this, although turning this post from an "open problem" to a "theorem" will require either analytic models or simulations, and possibly both.
In this illustration, we imagine individuals arrayed on a spatial lattice, interacting via transmission rules with their lattice neighbors (say, the Moore neighborhood).  Here I have pictured a situation where each individual is surrounded by Moore neighbors who have a different transmission rule than themselves (in the language of the Ising model of statistical physics, I have depicted a "maximally anti-ferromagnetic" setup).  For each individual, the effect of their biased transmission would be measurable — either as a tendency to select for imitation the most common or least common traits within their neighborhood.
But notice that as soon as we begin to aggregate trait frequencies over any non-trivial block of individuals (i.e., we examine renormalized statistics for the system), or if we examine the system-wide frequencies, the biasing forces cancel out, and we only detect "random copying."  And not just at the level of the whole system (i.e., the macroscopic frequency spectrum), but for any intermediate block size we measure (i.e., mesoscopic frequency spectra).  We simply can't tell, from frequency data, that the underlying microscopic transmission rules are highly biased.
Now, the situation pictured here is perfectly idealized in many ways.  In real populations, the proportions of different transmission rules will vary (often through time), and individuals will face different mixes of those rules in their social network contacts, and the strength of a conformist or anti-conformist bias might vary, depending upon the situation or the trait or the individual.  So the fact that we can construct a model in which microscopic biased transmission rules "add up" to unbiased transmission macroscopically is no guarantee that we won't be able to detect a "signal" of bias in real populations, especially if a realistic system displays different behavior at mesoscopic scales.
Thus, the open problem here is really one of the limits and "phase portrait" of mixed systems of transmission rules.  When can we detect the mode or modes of transmission from macroscopic data?  When can't we?  How strong do biases have to be to detect them against a background of drift, innovation, and the tendency for heterogeneity to "average out."?  How do the answers of these questions depend upon the interaction structure (spatial or social network) of the population?
And for archaeological purposes, the answers to the questions posed in the previous paragraph must then be viewed against a background of time-averaging processes that result in archaeological assemblages.  For example, in Fraser Neiman's (1990) dissertation, he argues that time-averaging does not obscure the statistical signature of neutral drift, and thus one can still use Wright's F-statistics and Ewen's tests to examine archaeological assemblages using the lens of neutral theory.  Carl Lipo's dissertation (and our previous and subsequent work together) relies on this as well.  And it's probably a correct assumption.  If we think about a two-trait Wright-Fisher drift model, the PDF for the trait frequency distribution is binomial (multinomial in the K-alleles or infinite-alleles case).  And if we assume that a time-averaging process is truly the process of taking the sum of counts for each time period and then recalculating the frequencies, the average of binomial (resp. multinomial) trait frequency distributions over time will be binomial (resp. multinomial) as well, and thus the time-averaged frequencies will still be distributed as expected by Ewen's test.
We should note that time-averaging may very well have different effects when transmission is biased.  The sums of arbitrary frequency distributions may not replicate the individual frequency distributions viewed at a given moment in time.1  Thus, we need to understand experimentally (and possibly analytically), what happens when we time-average the temporal record of different mixtures of microscopic transmission rules, before we can make any archaeological inferences.
I am hoping to work on this open problem within the next year, in the context of my dissertation research.  But I'd welcome insights or partial results if other folks have worked on aspects of this, whether in anthropology or another discipline.
 The reason here is that, generically speaking, the sum of two PDFs is the convolution of the two functions, and it just so happens that certain PDFs convolve to the original function with different parameters, but this need not be the case.  There are a couple of animations on the Wikipedia entry for convolution that illustrate the resulting waveforms nicely. ↩